DJI OM 5 Smartphone Stabilizer: A Revolutionary Tool for Cinematic Footage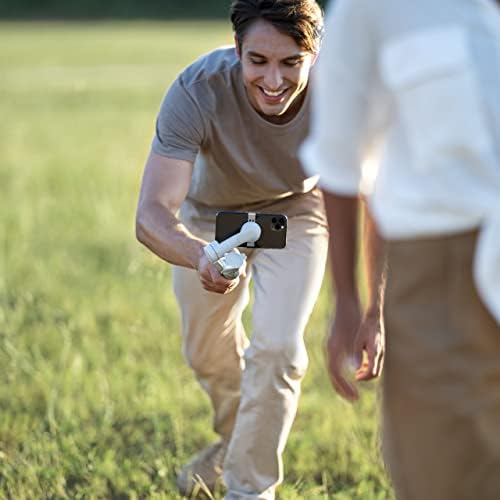 Introduction
The DJI OM 5 Smartphone Stabilizer is a game-changer in the world of videography. Designed specifically for smartphones, this portable device provides filmmakers and content creators with the ability to capture smooth and professional-looking footage on the go. Whether you're shooting a vlog, short film, or simply capturing precious moments, the DJI OM 5 is an essential tool that elevates your mobile videography to the next level.
Enhanced Stability and Control
One of the notable features of the DJI OM 5 is its advanced stabilization technology. Equipped with a three-axis gimbal system, this stabilizer ensures that your videos remain steady and shake-free, even when you're on the move. The result is smooth footage that rivals professional camera setups, right from the convenience of your smartphone.
Compact and Portable Design
With its compact and foldable design, the DJI OM 5 is incredibly portable, making it the perfect companion for both travel and everyday use. It easily fits in your backpack or pocket, allowing you to capture cinematic footage wherever you go. Whether you're exploring new destinations or simply walking down the street, the DJI OM 5 is ready to capture your story.
User-Friendly Features
Operating the DJI OM 5 is a breeze, thanks to its intuitive user interface and intuitive controls. The companion DJI Mimo app provides you with a range of shooting modes, including ActiveTrack, Gesture Control, and DynamicZoom, allowing you to unleash your creativity and experiment with different cinematic techniques. With just a few taps on your smartphone screen, you can achieve professional-looking shots with ease.
Creative Shooting Modes
The DJI OM 5 offers a variety of shooting modes that enable you to capture stunning footage from unique perspectives. With the Gesture Control mode, you can command the stabilizer to start or stop recording, take a selfie, or even create dynamic camera movements with a simple gesture. The ActiveTrack feature allows you to select a subject and have the stabilizer automatically follow and keep it in the frame. These versatile shooting modes open up a world of creative possibilities.
Enhanced Smartphone Capabilities
By utilizing the DJI Mimo app, the DJI OM 5 takes advantage of the advanced capabilities of your smartphone. Whether you're shooting in 4K resolution, capturing slow-motion footage, or experimenting with different aspect ratios, the DJI OM 5 ensures that your smartphone's camera performs at its best. This synergy between the stabilizer and your smartphone not only enhances the quality of your footage but also expands your creative options.
Long-Lasting Battery Life
The DJI OM 5 is equipped with a high-capacity battery that provides hours of usage on a single charge. This allows you to film for extended periods without worrying about running out of power. Additionally, the stabilizer doubles as a power bank, enabling you to charge your smartphone while in use. This feature is especially useful when you're out and about and need to charge your device on the go.
Wide Range of Accessories
To enhance your filmmaking experience further, DJI offers a range of accessories for the OM 5. From a tripod base to extendable poles and even a wireless microphone, these accessories expand the capabilities of the stabilizer and allow you to experiment with different shooting styles. Whether you're a professional filmmaker or an aspiring content creator, these accessories enable you to take your videos to new heights.
Durability and Reliability
DJI is renowned for its high-quality products, and the DJI OM 5 is no exception. The stabilizer is built to withstand the rigors of daily use, ensuring its longevity and reliability. The solid construction and premium materials used in its design make it a reliable tool that can withstand the demands of any shooting environment.
Applications for Various Industries
While the DJI OM 5 is a must-have tool for filmmakers and content creators, its applications extend beyond these fields. Whether you're a real estate agent looking to film property tours, a fitness instructor recording workout videos, or even a teacher creating educational content, the DJI OM 5 empowers professionals from various industries to capture engaging and high-quality videos.
Conclusion
The DJI OM 5 Smartphone Stabilizer is a revolutionary tool that transforms your smartphone into a professional-grade camera. With its advanced stabilization technology, user-friendly features, and compact design, it offers unmatched stability and control, no matter where your filmmaking journey takes you. Whether you're a seasoned filmmaker or a beginner, the DJI OM 5 is the perfect companion that unlocks your creativity and elevates your videos to new heights.
About Author